New cancer services department provides technical advances with a holistic ambience
2009 saw the on-site start of a £19.9m ProCure21 scheme to redevelop the cancer services at the James Cook University Hospital in Middlesbrough, part of the South Tees Hospitals NHS Foundation Trust. Included in the scheme was a new radiotherapy satellite centre, known as the Endeavour Unit, housing three linear accelerators (linacs), a CT scanner and a new outpatient clinic.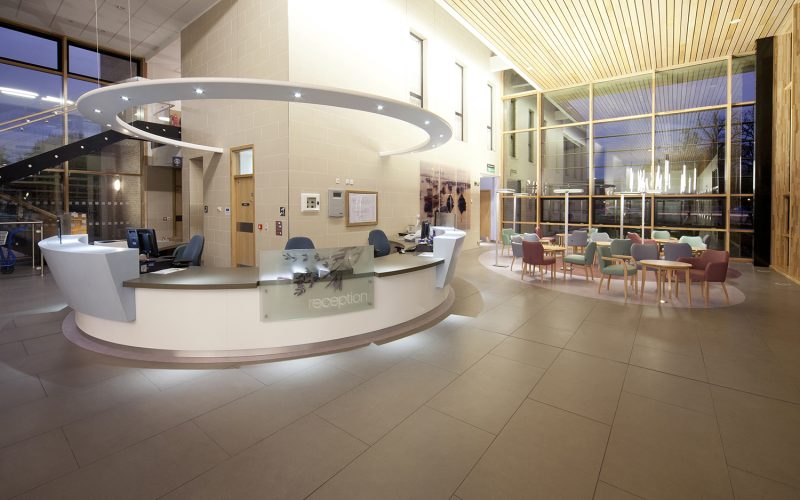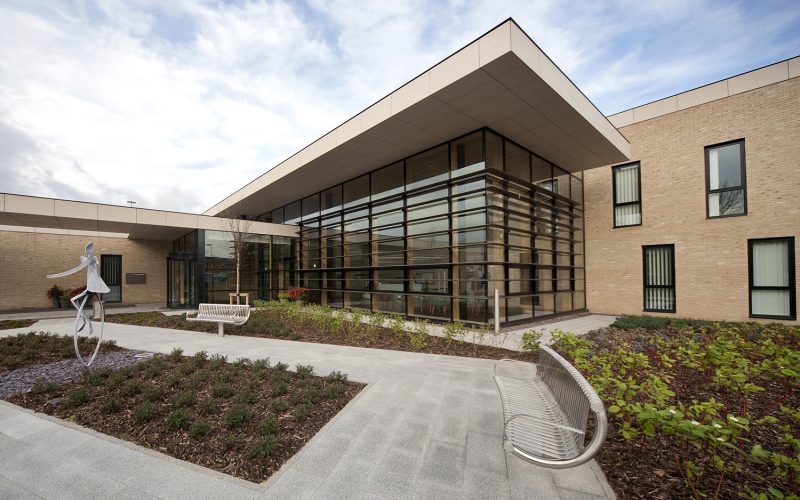 PSCP Interserve worked on the design of the unit with the radiotherapy services team. From the outset, both teams prioritised communication using ProCure21 methodology. "It brought us all together, right from the design stage," said Interserve construction manager Mark Gardham. "The open-book collaborative accounting meant we could focus on best value and delivery within the budget. Without the ProCure21 framework the project wouldn't have had that partnering approach." Trust radiotherapy services manager Fiona Milnes agrees: "As a client, we felt we were being heard and understood, and it allowed us to design and get exactly the unit we wanted, with some excellent innovations and improvements."
One of those improvements was the replacement of a maze of corridors – "necessary for radiological protection but intimidating to patients," said Fiona Milnes – with ten-tonne radiation-protective sliding doors on each linac bunker, giving a direct and more patient-friendly route.
The requirement to design out programme risk as far as possible led to Interserve adopting an innovative method of bunker construction popular in Germany but new to the UK: the Forster sandwich technique. This involves filling pre-cast panels with stone and blast-furnace slag on-site. "It was a number of weeks quicker to use the Forster sandwich, plus it took away the necessity of dealing with a number of on-site variables such as weather and temperature," commented Mark Gardham. "It also lends itself to a higher-quality bunker, with less possibility of hairline cracks and potential leakage."
The construction phase gave rise to several further challenges, including the requirement to carry out heavy work in areas adjacent to wards accommodating immuno-suppressed patients: "We were dismantling 20 tonnes of reinforced concrete, which meant a lot of potential for airborne pollutants," says Gardham. Interserve used its innovative negative air-pressure system: air-tight hoardings were erected around the construction area, with extractor fans ducting to the exterior through the roof. The lower air-pressure in the construction area meant that "dust and pollutants can only go one way – out through the roof," according to Gardham. Staff were able to monitor air pressure inside and outside the construction area using a magno-helic gauge mounted on the hoardings: "it gave a visual check on the security of the environment."
Specification of finishes, fixtures and fittings was purposely designed to give a "less institutional feel" according to Fiona Milnes. Sustainability was observed with a ground-source heat pump to heat the main waiting area, and rainwater harvesting for WC supply; air-conditioning was eliminated with a computer-controlled natural ventilation system, and waste from the site was recycled, saving the Trust £14,300. The unit achieved a BREEAM 'Excellent' rating.
With the Endeavour unit just five months into its operating life, Fiona Milnes and her team are "delighted" with the new unit. "Our patients like it so much that they're coming earlier for their appointments," she said. "Obviously that helps us keep to schedule, but it helps them too, because they sit in the waiting areas and have a cup of tea and chat – so it tends to function as an informal support group. That's great for patients, and great for us."