The ProCure21+ Cost Reduction Programme has pioneered the use of repeatable room designs and standardised components that improve not just cost-efficiency but also levels of innovation, quality and risk
Download: Repeatable Rooms Catalogue – 1.6mb PDF
You can view the Repeatable Rooms App online: procure22.nhs.uk/repeatable_rooms_app
Or download a version for an iPad: itunes.apple.com/gb/app/procure-21+
Download: Standard Components Catalogue – 1.9mb PDF
In the eighteen months since the ProCure21+ National Seminar gave the framework's Cost Reduction Programme a mandate to proceed with development of the Standardisation programme, some impressive goals have been achieved. For the acute sector, eleven repeatable rooms have been designed, and deals struck with suppliers to make 12 standardised components available at reduced cost. In the last five months, the programme has moved on to the mental health sector, developing repeatable bedroom designs for functional and organic mental health conditions, and accompanying components suitable for use in mental health environments. The use of standardised components in particular can save up to 30% on typical ProCure21+ schemes.
The eleven acute care rooms comprise a single bedroom with en-suite bathroom, a four-bed bay with en-suite and separate WC in a traditional, diamond or t-form configuration, a 3- and 2-sided access consultation/examination room, and a consultation room. In mental health, there are two repeatable rooms, each with nested and inboard en-suite bathrooms. The standardised components suitable for use in each environment have been benchmarked against market rates to confirm best value, saving on average 30% on current market prices: these cover hard flooring, suspended ceilings, sanitary ware, lighting, partitions, doors and ironmongery, amongst others.
Programme director David Kershaw has overseen the development of the programme to date; he says that although the initial drivers for the Standardisation programme centred on cost-efficiency, in fact a raft of savings are embedded within the repeatable rooms and standardised components. "Procurement and programme time savings, in terms of speed to market, are potentially dramatic – and of course the designs are based on proven, consistent quality known to impact positively on patient healthcare outcomes," he says. "But the savings are not just about cost, and they aren't just realised during the construction phase. Some benefits extend into the operational life of the building, such as the reduction in risk to patients and staff, and the increase in staff efficiency, that arise from familiarity with a repeated layout." In short, he says, the Standardisation programme achieves improvements in patient outcomes while simultaneously achieving cost-savings that are both required by Government and in the interests of the NHS: "It is a robust, tried and tested means of adding extra value to capital schemes."
In acute care, the eleven repeatable rooms and 12 standardised components are all available across the NHS via the StandardShare web portal. All are available as Building Information Modelling (BIM) files, containing 2D and 3D drawings, product performance data, maintenance data, costs and programme information. The Standardisation programme is not mandatory, and there are no contractual obligations to purchase; there are also no minimum value/quantity requirements, and no volume discount or rebate structures with any suppliers. David Kershaw says that NHS clients using the ProCure21+ framework are encouraged to use these "smarter" buying proposals as the baseline for component specification, and the framework's Principal Supply Chain Partners (PSCPs) will adopt these proposals as their baseline specification for calculation of the Guaranteed Maximum Price.
NHS clients are enthusiastic about the benefits of standardisation, says Richard Venables, associate commercial director of ProCure21+ Principal Supply Chain Partner Interserve. The PSCPs are conducting a training programme aimed at enfranchising clients and promoting the benefits of standardisation throughout the supply chain: Venables says the whole process is "a journey, a change of mindset and thinking slightly differently. In construction, it's commonplace to waste some commodity on a project – be it time, cost or risk allowance – because it hasn't been properly evaluated as an optimum solution. With the repeatable rooms and standardised components, we're able to say with confidence to clients that this is an evidence-based solution that is the sum of the best possible practice known in a specific area – and what's more, it saves time and programme resource too."
Work on the £7.6m refurbishment and rebuild of Purley War Memorial Hospital was already well under way when the standardised components were released, but PSCP Miller HPS was still able to use the Cost Reduction Programme's standardised flooring as part of the internal specification. The Tarkett flooring was used in ground floor and first-floor areas, and its use overall generated a saving over conventionally-procured flooring.
It is essential to engage with the designs early in the life of a scheme, says Integrated Health Projects' framework director Alan Kondys: "There is an optimum point for deriving best value from the Standardisation programme, whether or not the client has engaged a PSCP yet. In truth, the PSCP is the best channel for exploring the value of standardisation on a scheme, because they are all trained and familiar with the processes and benefits – but it is absolutely necessary to embed standardisation as a concept into a project at the very early stages of planning, in order that designs do not advance so far that it becomes cost-prohibitive to re-work them to incorporate the benefits of standardisation." He points out that all the designs and necessary material are available via StandardShare, outwith ProCure21+: "Even if an NHS client wants to embark on the early planning and design stages without engaging a PSCP, the material is all there to embed standardisation from the earliest point."
The development process
The development process has involved many stages to ensure a robust quality of evidence-based design. Following the National Seminar in April 2013, literature and design reviews were compiled and patient workshops added a user perspective to the emerging best practice. Expert review panels were convened, with representatives from the Royal Colleges, the NHS and the construction industry, to comment on the initial design proposals; suppliers were researched and approached, with ProCure21+ procurement experts negotiating advantageous deals. A series of technical reviews was undertaken to test the designs using real-life processes, and finally in February 2014 the final repeatable rooms and standardised components were made available via the ProCure21+ StandardShare facility – following which, the Standardisation team repeated the basic process to develop the equivalent rooms and components for mental health environments.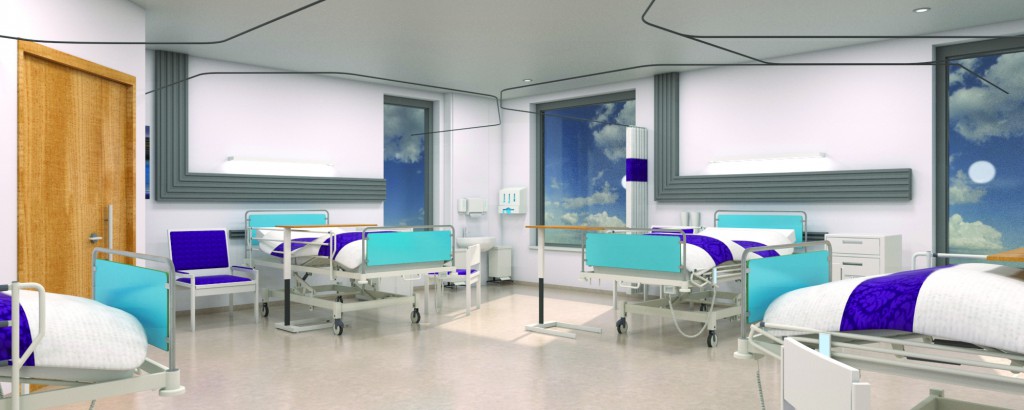 Standardisation in the mental health sector
It has taken around six months from pulling together the original evidence-base in a literature review to the imminent release of final tested, approved designs, but the ProCure21+ Cost Reduction Programme's Standardisation initiative is about to launch two repeatable room designs and supporting standardised components for use in mental health environments.
The process of development has followed the same broad path as the acute sector rooms, says David Kershaw, but an early discovery of a lack of common standards across the NHS meant different development methods had to be used in the early stages to gain evidence of best practice.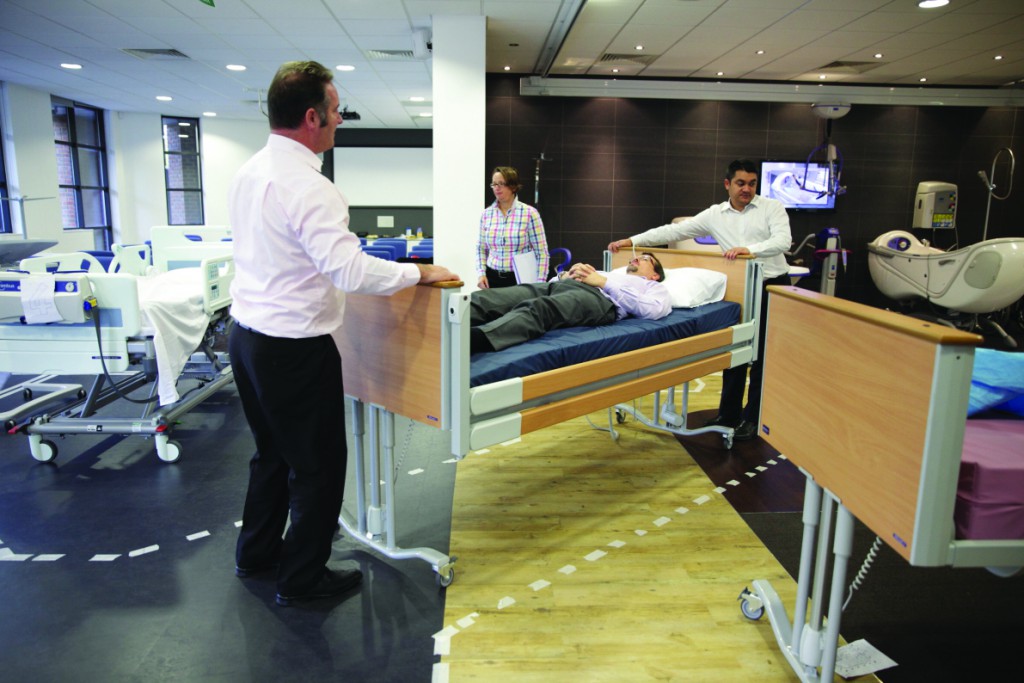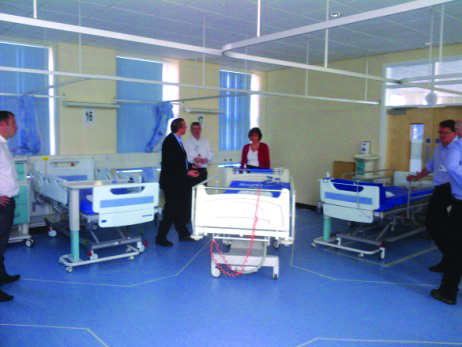 "We found that the usual process of specification is for a mental health Trust to test, individually, up to half-a-dozen components for use in their own setting. We believe that's wasteful of resources – the introduction of standardised components will entail a massive saving in programme time and manpower in the mental health sector," he says.
There is also likely to be a significant cost saving associated with the standardisation exercise, Kershaw suggests: "Some component suppliers calculate that they spend up to £100,000 each year on sending sample products to Trusts for testing, and of course they have to add that on to the cost of products themselves. We benchmark unit costs for all suppliers as part of the Standardisation programme, but it's likely that mental health suppliers in particular will see even bigger cost-savings than in the acute sector, simply because component suppliers will not need to supply as many samples."
A questionnaire was constructed for clinical staff in mental health facilities to give their opinions on the functions of patient bedrooms, items included in bedrooms and bathrooms, levels of patient control and aspects of patient and staff safety. Results of the questionnaire were discussed with representatives of mental health Trusts from across the UK.
Recommendations and exemplars
Because the use of components across the mental health sector is diverse, the standardisation development process has challenged suppliers to identify the best component in a given range, in terms of safety, quality and cost. Following this, mental health trusts that have used the component were requested to give information regarding its use in their facilities. The final standardised components 'menu' therefore comprises a recommendation for a specific component, with a list of Trusts where exemplars of use can be found.
Unlike the acute sector, which encompasses a wide variation in bedroom sizes, the mental health sector bedroom is "already pretty much optimised for space usage," says David Kershaw. "Savings on footprint will therefore be minimal." However, ancillary savings at planning, design and construction stage are all "extremely worthwhile": "Preliminary estimates indicate a saving of around 2% on the building costs alone, and the same amount on NHS client costs as regards staff time saved in design and consultation meetings."
For more information on the ProCure21+ Standardisation initiative, together with all documentation for repeatable rooms and standardised components, visit the StandardShare web application at www.procure21plus.nhs.uk/club.
Benefits of standardisation
staff efficiency
cost savings
repetition savings
time savings
quality
consultation savings
risk reduction
patient/staff safety
Case study: Scarborough Hospital: Maple 2 ward
York Teaching Hospital NHS Foundation Trust
At Scarborough Hospital, PSCP Kier is incorporating a diamond-layout multi-bed bay repeatable room design in the Maple 2 ward, a surgical ward being built as a second-storey extension to an existing 28-bed ward block, which is due to open in January 2015. The design is calculated to improve patient flow and efficiency, and the optimised footprint will create more space.
The work at Scarborough was undertaken in parallel with the development of the repeatable room multi-bed bay design, and the results helped to inform the design now available on ProCure21+ StandardShare. Kier worked with the clinical and nursing teams on the ward to finalise the design. Room layouts were mocked-up in a vacant ward on-site, with scenario testing undertaken by members of the Trust's nursing, infection control and privacy and dignity leads, and estates staff.
Capital and infrastructure programme director James Hayward is enthusiastic about the repeatable room design: "Repeatable rooms represent best practice in design. We were looking not only for cost-efficiency, which the multi-bed bay design will give us, but also for efficiency in operation and improvements in patient safety. One of the benefits of a repeated room layout is that staff become familiar with the layouts and equipment within a room, and that helps them to provide good quality care for patients."