The Purley & District War Memorial Hospital originally opened in 1907 and since that time its condition had deteriorated with significant areas of disuse – but ProCure21+ is helping to breathe new life into the building, bringing it up to 21st century standards and creating a new centre for integrated care in the South Croydon area, with improved access to a full range of primary, community and secondary health services.
The £7.6m ProCure21+ element of the £11m scheme, which will be managed by Principal Supply Chain Partner Miller hps (now Galliford Try) in conjunction with Croydon Health Services NHS Trust, is funded from the £300m NHS capital partnership announced by health minister Simon Burns in May 2012, and as such, had tight time constraints. ProCure21+ methodology was used "to bring all stakeholders together and speed up the process of getting to Guaranteed Maximum Price (GMP) stage," according to Miller hps's ProCure21+ programme manager Omar Jomeen. In the end, this was achieved in just 14 weeks.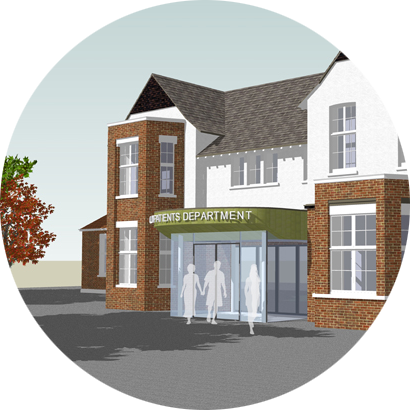 Trust project manager Leslie Apps worked with the Trust's inhouse projects team to put together a "very thorough" High-Level Information Pack, including planning applications, surveys and condition surveys together with internal business case approval, which enabled the PSCP to mobilise quickly. In response, the PSCP put in place an innovative 'lean' pre-construction process that saw the design being developed alongside the operational brief, and both processes running simultaneously with the costing, design planning, brief development and surveys. This kept the project on-track in terms of time, but also had the effect of minimising risk in the pre-construction phase.
Inclusive design process
Following an inclusive design process, a launch workshop at project initiation gathered together all the stakeholders to agree key principles, set up user-groups and put in place key operational policies. These were used to inform all the pre-construction stages, and this therefore allowed the team to move forward quickly without too many iterations of the designs. "One of the main areas was to do the options appraisal and the space appraisal at the same time," said Leslie Apps. "That meant we could work quickly without too much interim delay in seeking stakeholder approvals." To ensure that the design had incorporated all stakeholder requirements, the PSCP also held a design validation workshop at the end of the period. "We listened to a cross-section of end-users throughout the design process," said Omar Jomeen, "and by thoroughly understanding their requirements and the nature of care required, we were able to avoid over-engineering the solution – all of which helped to keep the project on-time and on-budget."
Market testing was prioritised on a highest-risk basis: within the timescale, it was not possible to market-test the entire project, but the PSCP's pre-construction manager Jason Gibbings identified those elements of higher risk within the scheme, and worked with supply chain partners to ascertain industry standard pricing for those elements: "By utilising long-standing relationships we were able to provide some certainty against those key risk areas," he said.
Early in the process, Miller and the Trust took the decision to focus on standardisation of room design, fixtures and fittings, and M&E strategy, to deliver best value for money and to drive efficiencies in the programme. This also has the benefit of building in future flexibility for the Trust: "If a consultation/examination room is designed correctly and meets all building regulations and infection control standards, it allows us to adapt room use to meet future needs as well," said Leslie Apps.
Omar Jomeen said the ProCure21+ framework had been "key to meeting the milestones, along with the NEC contract, both of which allowed us to operate in the true spirit of partnership." A Miller team relocated to the Trust's offices in London and met daily around the table for a 10am tea-break – "it sounds like a small thing but it was central to keeping communication lines open and the project as a whole moving on all fronts."
As well as outpatient consultation and examination spaces, the new development will incorporate an Urgent Care Centre, diagnostics and imaging, rehabilitation services, ophthalmology, audiology and ECG facilities, and an area for primary care interface including a GP practice and local authority/social services. "Once the facilities are up and running in August, local residents will be able to access about 80% of their outpatient appointments right here in Purley, and will only need to travel further afield for a minimum of procedures," comments Leslie Apps.